The Christian Strip Tease – Worn Stuff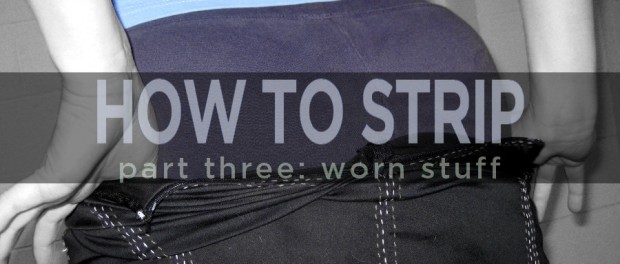 The date is set. The playlist is queued up. You're psyched up, and you've got your game face on. However, that's all you've got on, as you stare into your closet trying to decide what to put on when the whole point is to take it back off. Well, I can't see your wardrobe from here, but maybe some tips can help you make your selection for your Christian strip tease for your husband.
Theming
Whatever you're to wear, it should all follow a theme. Maybe it's nothing but lingerie under a robe, but it could just as easily be a beach theme — a skimpy bikini with a t-shirt and short cutoff shorts. On the other hand, it could be your actual work uniform, or a fake one like the classic French maid look. It could be workout gear or simple pajamas.
Whatever it is, ensure it all fits together as a whole.
Bundle Up
Layering helps you take your time. And more layers mean a more paced sequence.
That said, wear layers. If all you're wearing is a simple sundress with nothing on underneath it, there's not much to strip or to tease. Remember Rule #1 from last time? Layering helps you take your time. And more layers mean a more paced sequence.
I'm not suggesting you come out like Joey on Friends, waddling under a closet full of clothing. However, you should wear as much as makes sense for the theme, and feel free to throw in an extra surprise in the mix.
For example, wear some broad-covering panties like hot pants, but throw in a thong or g-string underneath it. Then you can tease the innermost layer while still in the outer layer, pulling up a string with a thumb or letting it be seen through a lacy exterior (imagine a hot pink thong under black lace hot pants).
Mind Games
Keep in mind that the striptease is all about anticipation and mind games. The point isn't to stimulate the body; it's to stimulate the mind. And the best striptease is one that continues that stimulation, that anticipation, those mind games long after it's over.
An easy way to do that is to make your outermost layer a common one. Perhaps you've got some super sexy stuff going on underneath it, but the exterior is something he sees regularly: a favorite casual wear outfit, or your gym clothes, or maybe something you wear to church. Now, when he sees you in that outfit, there's a strong chance he'll think back to this sexy experience, and find himself wanting you more. Mind games are fun.
Now, don't overuse this tactic. Mix up the outfits each time you do this, with different themes and so on. But make sure you play this card. And have fun with it.
Smart Shoes
If you opt to wear shoes (and there's no rule saying you must), go for pumps or something that can be similarly removed with ease. Don't risk an awkward and potentially painful tumble because you have to fight with buckles, laces, or straps. There'll be plenty of opportunity for those things above your ankles.
That said, ignore this suggestion if you're going to start out your routine making a show of taking your shoes off (a great option if your husband has a foot fetish) or if you plan on continuing to wear the shoes the whole time. In either of these cases, the more soundly attached they are, the better. For example, knee-high boots can be slowly revealed if the plan is to remove them early on, but they're also unlikely to accidently come off as you move about if you plan to keep them on.
Incremental Reveals
So, speaking of buckles, laces, and straps, do a lot of this in the rest of your outfit. Maximize it. As much as you can, wear clothes with zippers, buttons, snaps, hooks, ties, or straps.
Why? Because you can take your time revealing yourself with them.
As much as you can, wear clothes with zippers, buttons, snaps, hooks, ties, or straps.
If your blouse buttons up, undo it as you dance, one button at a time. And pause periodically to dance for a while at key points, such as when your bra starts to show, or when it's fully unbuttoned. If you don't immediately discard it when it's unbuttoned, you can control the exposure simply by opening and closing the window, building up anticipation before you finally remove it. In fact, it may even stay on while you move on to another item. Remember… mind games.
Likewise, if your pants unzip, dance for a while with them partly, then fully unzipped, showing off your panties before they're actually clearly visible. You get the idea.
Go Bold or Go Home
Unless necessitated by the outfit's theme, this isn't the time to wear that conservative, tasteful nude bra and matching pair of reliable granny panties that never gives you panty lines. When it comes to your underwear, choose aggressively.
Wear bras with plunging necklines or push-up enhancements (even if you're already busty; overkill never hurts in this arena). Wear skimpy panties with more in common with dental floss than anything your Aunt Hilda has ever worn.
Wear bright, bold colors. Unless it really just rocks with your hair or skin tone (or suits the theme, like maybe your outfit for church on Easter Sunday), just assume that pastel underwear isn't made for striptease. If you don't have any bright colors, shame on you. They're flirty and fun. But never fear. Blacks are bold in their own way and always reliable. And in many cases, white can be just as good (an all-white outfit including a sun dress and a hat can be great).
Accessorize
Speaking of hats, don't hesitate to accessorize if it fits the theme. From simple touches that can be easily forgotten once worn (like earrings) to pieces that can become part of the routine itself (scarfs are a great option, potentially left on until late [or last] in the sequence and can be used to tickle/tease), they can give you more confidence and him more to take in.
Some accessories can be used interactively. Your belt could tie his hands behind his back, for example. And don't stop there; use the rest of your outfit, too! Your pants and shirt can be used to tie his legs to the chair legs. Then, for a big surprise, wad up your panties and stuff them in his mouth, using your shirt or tights to cover his mouth like a ball gag. Bet he wasn't expecting that! And I bet he's on high alert now, too.
Give Yourself Props
If it fits the theme, have a prop or two as well.
If you're in your waitressing uniform, go all the way. Wear your apron with your pen and pad in the pocket. Come out with a tray and a drink for him to enjoy while he's watching the show. Or maybe a shot, to be taken from your body. You can leave your apron on through much of the striptease, occasionally checking your pad and asking him if he's happy with his "order".
Sure, it sounds cheesy. That's 'cause it is. But it can be a playful avenue for flirtation, and it can help you lose yourself in the moment (or role), thinking more about having fun than stressing about how you look. The result? More of that all-important confidence.
Have Fun
Keep in mind all this is about having fun. Him and you.
Don't try too hard to impress him while you're out there. Rather, expend your hard efforts on the front end — choosing songs, outfits, etc.— when he's not watching, and just enjoy yourself once the music starts.
Be prepared to laugh things off, and don't take this all too seriously.
Remember: you're not there to invent or conjure beauty. You're there to show off the beauty God already gave you.
Most important of all, remember you're not there to invent or conjure beauty. You're there to show off the beauty God already gave you.
So prepare, yes, but relax and go with the flow once it starts.
And when it's all done, make notes for ideas next time. In fact, if you feel like you can avoid taking his feedback personally, ask your husband for suggestions. As him to tell you what he liked most. I promise he'll have opinions, and if he doesn't think you'll be hurt or offended, he might be willing to share them.
At the very least, he'll love to see what's in store next time.
Originally posted 2015-04-03 08:00:43.