The Christian Strip Tease – Practical Stuff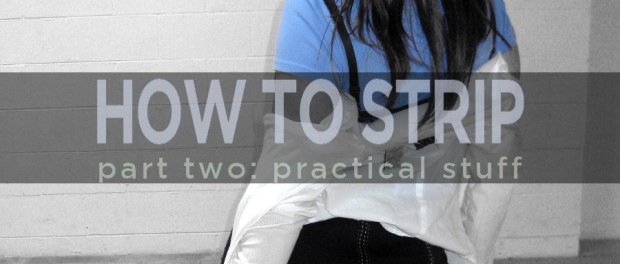 You've made the commitment, and your mind is set (see part one). You're going to do a striptease for your husband. And despite how little help my advice was on the soul issues addressed in Part One, you've decided to give me another chance.
Perhaps I can't offer solid suggestions for coming to grips with what you're on the path to do, but maybe my masculine handicap can actually be an advantage with practicalities. Well, read on, and see the eight rules for what a guy would want to see.
Rule #1 – Take Your Time
I've put this as number one for a reason: above all other practicalities, you've got to get this one right.
I know you're fighting self-consciousness at every drum beat, and you want to just get this over with, but this is a case where the goal is the journey not the destination. He's trusting you'll get to the naked part, so don't get in a hurry. Think of this as a 5k run, not a 100m sprint.
Don't get in a hurry. Think of this as a 5k run, not a 100m sprint.
As a rule of thumb, if you're done well before a song is over, you went way too fast. In fact, go ahead and use a playlist rather than a song. Use at least ten songs, in fact. Sure, you might not be doing a striptease for the whole playlist (though one to two songs is not a bad goal), but you can do what comes after the striptease to music, too.
Rule #2 – Pick the Right Songs
Speaking of music, be careful about your music selection. The beat matters more than anything else. Pick something with a strong rhythm but not anything too fast. This isn't the can-can.
But don't fall into the trap of focusing on sexual lyrics or narrowing your scope to this genre or the next. While some of these songs are solid (often produced specifically with this purpose in mind), there are some great options that can be easily overlooked. For every "Pour Some Sugar On Me" or "Slave", there's a dozen songs like "Supermassive Black Hole" that you might not have considered at first.
Rule #3 – Keep Moving
As a general rule, don't stop moving. If you ever stop, you should have a distinct reason for doing so. Maybe because the song had a pause or something. Otherwise, keep moving, even between songs, even if your movements don't have a defined rhythm.
Even if you think you can't dance, he'll be enthralled with whatever twisting, rolling, and swaying you've got. But on that note, unless it's something you know he likes, resist the urge to go to canned dance moves like the cabbage patch or, more recently,twerking. Save those moves for a more jovial atmosphere like karaoke.
He'll be enthralled with whatever twisting, rolling, and swaying you've got.
Rule #4 – Tease
It's easy to focus on the strip, but don't neglect the tease.
Remember you're taking your time, so in between taking this off and that off, hint at what may be coming next. Let your actions tease his mind (remember, his brain is the most sexual organ he has).
Maybe your bra will come next, so dance a bit with a strap off your shoulder. Or two. Or both. And maybe, at the last minute, when he's sure that bra's about to come off, you change your mind, pull the straps back up (or leave them there), and start to work on a skirt instead.
Get him thinking, wondering what's coming next. This builds on the anticipation, and anticipation is one of the key weapons in your arsenal.
Rule #5 – Put Yourself on Display
Imagine you're on a lazy Susan display like jewelry on the shopping channel or that convertible on the showroom floor. I don't mean spin until you're dizzy, but remember your beauty is on display.
At each step, with each thing removed (or partially removed), let him take it all in, from many or all angles and sides, even if you're not sure how sexy or flattering it might be.
Lift your arms, bend over, turn around, and twist as you keep moving. Show off your body and trust that if he wanted a striptease, he wants to (and likes to) see your body.
Rule #6 – Hands to Yourself
Feel free to touch yourself. Regularly. Constantly, even.
Imagine your hands are your husband's, and have them do what you'd like his to do. Or do what you think he'd want to do. Slap a cheek, finger yourself a little, caress your breasts, slip a hand inside your bra or panties (or both) and dance a while with it there. Or simply run your hands up and down your body with the music as you move.
Feel free to touch yourself. Regularly. Constantly, even.
Rule #7 – Hands to Him
Let's say you've established the ubiquitous stripper rule that he can't touch you. Which I recommend you do. It forces him to stew in the visuals and focus on the show, making his mind go crazy. And if there's one thing a striptease is, it's a mind game.
So let's say you've got this rule in place. That doesn't mean you can't touch him.
Touch him with your hands, running fingers up his thighs. Touch him with your breasts, grazing against his shoulder or chest. Touch him with your lips, breathing in his ear or neck. Touch him with your hips and butt, sitting on him forward and/or backward and grinding to the music.
On that last note, know that a striptease combined with a lap dance is a knockout combo. In fact, plan to grind on him frequently as you disrobe key articles. Maybe even dedicate a whole song to the fun.
Rule #8 – Finish Strong
Okay, so you're naked. Now what? Well, finish strong.
Don't' forget to display yourself, of course. This is the moment everything has been building up toward. His anticipation is fulfilled. So let him see all your beauty for a while. Once you've spent a fair amount of time showing off your goods, he's going to want you. But remember, this isn't just a strip. It's a tease.
Don't just do him right there. Give him a little surprise at the end.
Remember, this isn't just a strip. It's a tease.
Maybe you lie back in front of him and masturbate to the music. Maybe you patiently take off his clothes piece by piece, still parading your own body to the beat. Maybe you climb on his lap and grind away for a whole song. Maybe you combine those last two, grinding against his bare skin but not letting him enter you. Maybe you don't even give him sex at all, but instead give him oral, leaving him spent physically but mentally longing for a body he never got to have.
Now the anticipation will last longer than the striptease itself. It's going to haunt him for hours after.
What to Wear
So this leaves only one question: what should you wear?
Does this situation call for special lingerie? Or a costume? Or whatever you already had on? Well, that's all going to be covered in Part 3…
Originally posted 2015-03-27 08:00:43.