Sinister & Malignant or Sexy & Mysterious – Part 1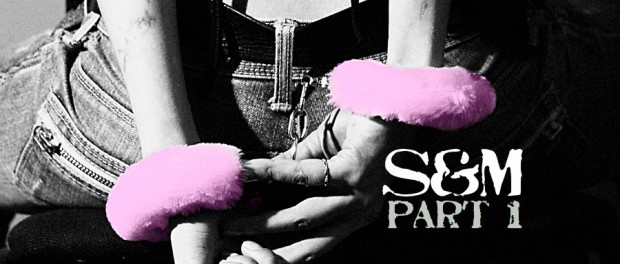 Stigma & Menace
S&M, or sadism and masochism, has developed a heavy reputation for creeps with superiority complexes, emotionally challenged women in leather, and a whole lot of pain disguised as pleasure.
From the outside looking in, S&M appears to have more in common with a horror flick than a romance, with its welts, chains, whips, and constant presence of helplessness. It smells of the vinyl coverings of a padded room's walls more than a bouquet of roses, so people often see pure unhealth, sin, terror, pain, and severe pathological problems. To say it enjoys a bit of a stigma is like your doctor saying you'll feel a bit of pressure when he pops your shoulder back into socket. Christians in pure marriage beware!
Yet with the proliferation of S&M in popular media — most notably in the vast success of the Fifty Shades series which has seemed to awaken the curiosities of white suburbia across the nation — it's no longer the exclusive territory of disturbing internet porn or tongue-in-cheek clichés.
Skepticism & Mockery
Reasonably, as people consider S&M, they do so with great hesitation. A set of ideas that are more frequently the butt of jokes and scorn than genuine interest from mainstream society, this curiosity has some shaken, even wondering if they have psychological issues for being curious at all. "Me in leather?" they ask with a chuckle. It's easier for us to block the image than to see it as plausible. This is what sick weirdoes do in basements and perverse sex parties. Not for me. Surely.
Yet, despite the skepticism, the curiosity remains, and some Christians even feel guilty about it. They want to know more, even if only for idle curiosity. But they're certain it must be sinful. Perhaps even satanic. After all, the only source of information about it is the dark, dingy corners of the internet and seedy "romance" novels.
Studies show over and over that for some people, pleasure and pain sensitivities can "cross wires", particularly erogenous zones where touch receptors (which handle both pleasure and pain) are most dense.
So what is S&M? Sadism is "a sexual perversion in which gratification is obtained by inflicting physical or mental pain on others." On the other side, masochism is "a sexual perversion characterized by pleasure in being subjected to pain or humiliation." Essentially, S&M is a category of sexual activity centered around one person inflicting some sort of unpleasantries on another.
On the surface, this sounds… well, unpleasant. Why would someone find pleasure in pain, whether causing it or feeling it? Well, studies show over and over that for some people, pleasure and pain sensitivities can "cross wires" (the technical term, obviously) up to certain amounts in certain areas of the body, particularly erogenous zones where touch receptors (which handle both pleasure and pain) are most dense. Hence the pleasure.
Basically, some peoples' bodies confuse pleasure and pain, making both potentially erotic.
This begs the question… Can S&M have a place in a Christian marriage?
Sacrilege and Mutilation
Much of the Christian hesitancy is tied to the much-vaunted (and for good reason) sanctity of marriage. In protection of this God-created and God-ordained institution, we have a tendency to regard anything outside our comfort zone with suspicion.
Add into that the apparently horrendous qualities of S&M — disrespect, humiliation, pain, and other despicable characteristics — and it's not hard to see why Christians unilaterally condemn S&M or anything resembling it.
Despite my generally liberal stance with regard to sexuality within the specific scope of marriage, I tend to agree with this reaction on much of the more extreme elements of S&M.
What's edifying about things that debase my wife as an image of God or cause severe wounding of her self-respect?
What is edifying in a marriage about forcing someone into extreme humiliation? Now, I'm not talking about teasing my wife, embarrassing her, or causing her to experience something she might later exaggeratedly call "humiliating". What's edifying about things that debase her as an image of God or cause denotative humiliation — severe wounding of her self-respect? Making her eat dog food, defecating on her, and things like that. I can't imagine a Christian operating in agape love putting their spouse through that.
What is edifying in a marriage about causing physical injury or mutilation? I don't mean temporary pain, even pain that leaves marks or draws blood — sometimes my wife's fingernails dig into my back with accidental intensity and the resulting marks and blood aren't noticed until after, but the aggression is appreciated at the time — but things that can genuinely harm the other person. Risk of scarring, internal injury, or need of medical attention. There just isn't room for this in a loving Christian marriage, if you ask me. Or in a healthy secular one, for that matter.
Scrutiny & Mitigation
What if, though, we reign it in? Is there any measure of S&M that can be acceptable?
If we look closely and consider, if we set limitations and expectations properly, can even this be a part of the undefiled marriage bed? Or is it all diabolic deviance, all destructive desecration of the holy covenant of marriage?
Read on for part two…
Originally posted 2016-10-03 08:00:56.