Biblical Modesty and Vain Modesty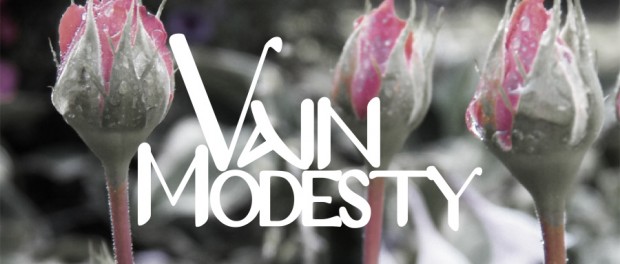 As a culture influenced by a narrow (and frankly misogynist) interpretation of Scripture's mandates for modesty, we have really lost sight of what biblical modesty means. We talked about this before, addressing specifically the common application of modesty to attire. Paul writes in 1 Timothy 2:9-10.
Likewise, I want women to adorn themselves with proper clothing, modestly and discreetly, not with braided hair and gold or pearls or costly garments, but rather by means of good works, as is proper for women making a claim to godliness. (NASB)
It's obvious that modesty relates to our clothes. However, these and other biblical prescriptions about modesty go far beyond what we wear. More on that later, but first let's look at the "vain modesty" we've created for ourselves, born out of the common interpretations of verses like these.
Vain Modesty Defined
Vain modesty is when we prohibit a state or characteristic at a fixed and arbitrary level for the sake of not seeming a certain way. Such a view of modesty is vanity (and frankly dumb) on multiple levels.
The state or characteristics of a thing cannot be inherently immodest without context or purpose. Is the braiding of a rope immodest since it's braided? Is a gold nugget deep in the earth immodest since it's valuable? Paul wrote on gold and braiding, but these things themselves aren't inherently immodest.
Second, rules aren't always as fixed and absolute as some seem to think. Let's get blunt on this one. We're not to kill, but God marshalled Israel to war. Stone an adulteress, but Jesus intervened on that very punishment. Bacon is unclean, but now it's made clean. I'm not suggesting rules shouldn't be enforced, but even God's own law is usually more nuanced than demagogues would have you believe. He takes into consideration the motivation more than the action. That's why Jesus could sum up the whole thing with love: how God's grace fits in with God's justice.
Third, while the law set forth by God is paramount, mankind's arbitrary application on behalf of other men is notoriously incompetent. After all, humans are born biased and narrow-minded (none of us wield God's infinite perspective). Just the idea that one individual human can on his own meter the degree of sin in another human's choices is ludicrous.
And fourth, the purpose behind biblical modesty seems more oriented around love and respect for others than the willful denial of reality. To deliberately reject an aspect of reality to seem as something other than reality is dishonest. Biblical modesty isn't acting like something you're not just like how biblical humility isn't pretending to be less than the next guy.
It's So Unseemly
What the square peg is wearing is irrelevant; it's square, and that's what makes it proper for the square hole.
One problem with vain modesty is that it has redefined "immodesty" as "unseemly". Being unseemly may correlate with being immodest given the right situation, but it's very much not what the Bible is addressing. "Seeming" doesn't matter. God doesn't command us to
seem
like we obey Him. John 4:24 depicts worship in both spirit and truth. It's to be authentic worship, authentic obedience.
At the end of the day, biblical modesty is about propriety. But even that word stands upon centuries of misguided shtick. People generally connect propriety, or being proper, to the keeping up of appearances (avoiding that which is unseemly). Instead, a proper thing in the sense I'm writing of is a thing that is exactly correct. The square peg is proper for the square hole. It's correct. It's suitable. It's literally fitting. What the square peg is wearing is irrelevant; it's square, and that's what makes it proper for the square hole. It becomes improper once it's used for the circle hole; that's not its place.
Seeming a way, or keeping up appearances, flies in the face of biblical teaching. One of the core tenants of Scripture is that we should love authentically. Authenticity is inherently proper. Square peg proper. Anything short of that is vanity. Any worship less than that fails the "spirit and truth" test.
Vain Modesty Applied
Enough theory. Let's talk about some examples of vain modesty.
We revisited this recently with attire in the example of a young girl wearing a two piece swimsuit in the private company of other young girls. Her well-intentioned peer berated her for her lack of "modesty". That was vain modesty.
Let's step back from attire, though, but keep the youth. Imagine a scene in a public school where society spurns the bright student for the immodesty of her knowing answers in class. Sure, arrogance enters the picture at a certain point, but a simply confident child feigning ignorance when the teacher asks her a question is vain modesty. It's trying to seem like something you're not, and shame on us for fostering a culture where we encourage such vanity.
Speaking of cultural biases, how about a nursing mother? During my daughter's infancy, my wife attended a casual social gathering of women and their young children. She nursed my daughter. Under a cover, I might add, which is unfortunate in general but downright ridiculous in that situation. One mother with a two-year-old boy condemned the idea of nursing without a cover in front of her son. That's vain modesty. There are always kids around when you're nursing; that's the point. Breastfeeding doesn't work via teleportation (at least not in our family).
Context, Motivations, and Actions Matter
I wrote before about the import of the audience when considering what to wear, but that's really just a small part of context. What's appropriate depends on the situation. It's not immodest for my doctor to see me naked in his office, but it's not modest for me to drop trow on the golf course with him, even if no one else is around. Context matters. Consent, too, but that's part of context.
Motivations matter, too. Remember those verses from Paul earlier?
As Amy Buckley wrote for Relevant, Paul's instructions that women dress modestly focuses on how "the fashion of some women has caused distractions, drawing attention away from God." And to be clear, the distraction wasn't sexual; it was materialism. The braids weren't arbitrarily a problem. They were an example of an internal issue.
So if you really think about it, the issues at hand are materialism, pride, and other issues of the heart that cause us to lose sight of the import and needs of others. Sure, this often manifests in what we wear, but it could just as easily manifest in what we do. Actions can be immodest in this biblical sense as much as attire. More so in many cases, since our actions so readily follow our internal selves.
Biblical Modesty and Misogyny
Vain modesty is misogyny molded by lazy hermeneutics and candy-coated by tradition
One of the most disappointing things about vain modesty is how it disproportionately targets women. With Paul naming women specifically, it's easy to interpret the verses above atomistically and lose sight of the broader message.
Buckley summarized the overall message and its gender focus well: "Modesty is not preoccupied with external appearances. It does not flaunt wealth, diminish others, or seek selfish attention; it professes reverence toward God. It is a quality both women and men should seek to exhibit."
But what about lust? Well, if you're in the mood to blame women for the lust of men, feel free to join the ranks of millennia of irresponsible men who also seem to have similarly given leave of their senses because a breast is in the room. But don't bring modesty into the discussion. "Biblical modesty isn't about managing the sexual impulses of other people," writes Rachel Held Evans. Sexuality isn't the primary focus of modesty. It's not even really a secondary focus.
The existence of my earlier example of breastfeeding being connected to modesty (and the sexualizing of the event in general) is further proof of the misogyny involved.
In truth, most vain modesty is misogyny molded by lazy hermeneutics and candy-coated by tradition.
A Call for Biblical Modesty
I long to live in a world populated by a modest people. Not people of modest means. We find vain modesty even in the term "modest means" — a term which really indicates moderation or a lack of extremes, not modesty. Biblical modesty is no more about quantity than quality. Rather, I long to live in a world populated by people who live as they are and respect others (regardless of whether others do the same).
Such a world would naturally foster agape love, but I have a hard time imagining such a world unless it is also fueled by agape love. So this side of eternity, I don't expect to see it as the norm.
Yet God expects us Christians to live with biblical modesty today. Right now.
Paul wrote about it specifically because we don't do it naturally. We tend to make a place for ourselves rather than find the place God has for us. This forceful approach has two primary flaws:
It counts on human insight to know the right place and human strength to produce it at any cost; and
It displaces others in the way of where it intends to go.
This immodest approach, this lack of consideration for our fellows, this lack of deference born out of respect rather than vanity — it wastes energy and resources to cut a path through others for the sake of self. It is a zero sum game. No value is added or created; it is merely redistributed.
If instead we lived in a manner where we found contentment and even pleasure in our lives, where we could celebrate our blessings with consideration for the world around us, much of the bitterness and resentment toward modern evangelical culture would diminish. We'd have to cease much of our brow-beating condemnation of the sinful world around us, but frankly that needs to happen anyway.
Too often, our rejection of others due to demands for vain modesty from them creates a barrier between their hearts and the Gospel we are called to carry with biblical modesty.
Originally posted 2016-04-11 08:00:19.