Explore Like Columbus Day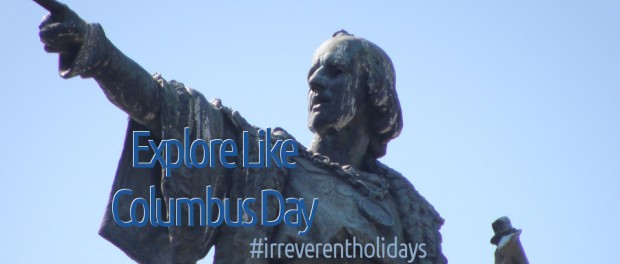 The second Monday in October is one of those awkward American holidays that are easy to forget. Columbus Day celebrates the first Europeans (except those other two groups of Europeans) to sail across the Atlantic and "find" the Americas. Yet unless Google changed their logo, I was unlikely to even notice this holiday's coming or going.
So I decided to spice up the holiday with a little fun for the wife and me, so we can have a reason to remember it. Sure, it's kinda irreverent, but I think it's good to have a little irreverence mixed in with our reverence, so we never take ourselves too seriously.
And Columbus Day is just the start. But let's not get ahead of ourselves.
Closed-mindedness is the bane of experimentation.
What's this little bit of spicy fun? Well, seeing as how Columbus was an explorer, we'll have a bit of explorative sex.
We'll alternate years, similar to what we do for our anniversaries, but each year one of us will come up with some completely new sexual experience that we'll try out. It may be a new kind of toy, or a new position, or a new location, or anything else we haven't tried before. The only rule (other than God's only rule) is that we both have to give it all we've got, despite any reservations we may or may not have.
Basically, we have to give it an honest try. Closed-mindedness is the bane of experimentation.
The first year is my turn, so we'll see how she likes my idea. Worst case scenario, we'll have a new experience and know it's not for us. Best case, we find something new we both love. Either way, we grow closer to one another in the process.
And suffice it to say, I'll never forget Columbus Day again. I think ole Chris would approve.
Stay tuned for more ideas for #irreverentholidays.
Originally posted 2015-10-12 08:00:40.