1 Corinthians 6:9 – Effeminate (malakos)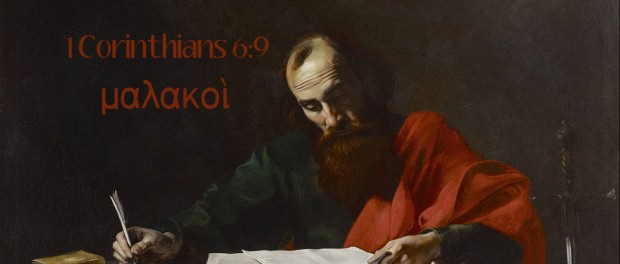 The word malakos in 1 Corinthians 6:9 is one of the more difficult to translate on the list.
The NASB and KJV use "effeminate" while the NIV offers "male prostitutes" and the Amplified seems to skip it altogether, lumping it together with the next word (arsenokoitēs). The TEV and RSV do the same thing, but the NAB seems to expand on it a bit, translating malakos as "boy prostitutes" seemingly out of left field.
Connotation vs. Denotation
The difficulty encountered in this translation isn't a matter of knowing the word's denotation (dictionary definition). The word is translated easily enough in Luke 7:25 or Matthew 11:8 where it simply means "soft, fine clothing".
The difficulty in translation is knowing how to concisely convey the word's connotation (secondary, culturally-influenced definition) when used to describe a person as a whole. After all, Paul wasn't depicting a human being actually made out of fabric, like some really expensive ragdoll. He was speaking figuratively, colloquially.
Suddenly the word takes on cultural shadows and socioeconomic undertones. A translator is left to communicate a complex symbol in one or two words.
Think of a pampered, callous-free wearer of silks and satins, reclining on comfortable pillows as he's fed peeled grapes by a strikingly pretty little boy and entertained by some light strumming on a harp by a gifted young man. This "soft, fine" individual is easy enough to imagine, but conveying that imagery in a word or two is no small feat unless a language happens to have a colloquial phrase that handles it.
Pederasty
The word is translated easily enough in Luke 7:25 or Matthew 11:8 where it means "soft, fine clothing".
This is further complicated when one knows to whom the word malakos was often applied by ancient Greeks in literature, including the works of Ptolemy. It goes beyond "soft". The term was used to describe those who participated (on both ends) in pederasty.
In today's terms we call these people "sick" but they call what they do "man/boy love". When you learn of the prostitution practices in the temples of Ganymede with catamites, it becomes easier to see why some English versions of the New Testament feel justified in claiming male or even boy prostitutes.
This label, malakos, was used to describe the men engaged in this practice as well as the boys and young men, as they allowed themselves to be abused. Even "effeminate" fails to capture the full implications.
So while the denotation of malakos is "soft clothing", the connotation of malakos reveals much more when used to label a person.
The difficulty in translation is knowing how to concisely convey the word's connotation when used to describe a person a whole.
"Self-polluters"
Vine's describes this as "not simply of a male who practices forms of lewdness, but persons in general, who are guilty of addiction to sins of the flesh."
The Jamieson Fausset Brown Commentary describes these malakos as "self-polluters", foreshadowing Paul's words at the end of the chapter that sexual sin defiles the temple that was bought with a price (our bodies). This definition certainly fits the imagery of the "soft" man with his peeled grapes and pretty boys, which is sin in a whole new light given the cultural ramifications of the label.
This "addiction to sins of the flesh" extends beyond man/boy love. Pornography could easily fall into this category with its addictive quality along with its soft (commitment-free, effortless) self-indulgence. Premarital activities that technically fall beyond the purview of pornos (fornication) could as well.
At the very least, it's clear why so many of the translations disagree on exact wording. For the most part, they all have it right, though I'd hesitate to just lump it in with homosexuality. While its application often includes homosexuality, it's distinct from it.
And that's probably why Paul lists homosexuality (arsenokoitēs) separately.
Originally posted 2016-05-06 08:00:41.
By Probably Valentin de Boulogne (1591 – 1632) (French) (Creator, [Public domain or Public domain],
via Wikimedia Commons