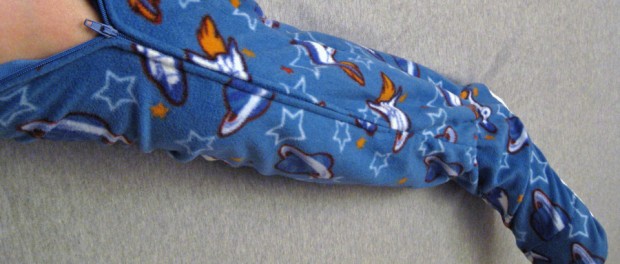 I don't know if such a thing exists, but I found myself imagining a special kind of adult pajamas inspired by toddler pajamas earlier today.
When my son was still little, he wore these big, all-covering affairs. It was one huge piece that had long sleeves, long pants, and feet. Yes, pajamas with the feet. Buttons or a zipper would run down from his neck down to his feet. You know, the typical pajamas for a toddler. Some even included hand coverings, and a couple also had a hood for his head. Some of these I've even seen with little animal ears. I think that's a girl thing. I'm choosing to believe it is.
Anyway, I was imagining something similar in my wife's size, with some minor tweaks. For one, the whole thing is much tighter, hugging her every curve like a wetsuit. Think yoga pants. Then, make them out of some sort of thin, stretchy fabric.
Keep the feet, the hand coverings, and even a hood with cute animal ears. She's a girl, after all.
If there's buttons rather than a zipper, there should be plenty of them. Not like five to eight like with toddler stuff. I'm thinking every couple inches, from her chin to her feet.
The end result is a snug and smooth body suit that can be slowly but entirely removed. Great for a slow reveal. Downright sexy.
Therefore, I submit, pajamas with feet are #notjust4kids.